Have you ever wanted to give something a try, but didn't quite know where to start?
Maybe it's time to try something new! Join us for live online language classes!
As we continue to monitor the situation with COVID-19, we are dedicated to the health and safety of all of our students, teachers and staff. Consequently, we have decided to move all of our in-person classes online by using Zoom, an online live video conferencing platform.
Students can simply click on the link your teacher sends you or can download the platform to your computer, tablet or phone for free.
We've set up the Zoom classes, so students can do homework or practice what they learned in class.  An actual class looks a lot like the picture above, but you'll be in the comfort of your own home and space. Our teachers are putting in a lot of time to make this transition for our students. We don't want the current circumstances to halt your linguistic journey. We are up for this challenge and hope you are, too!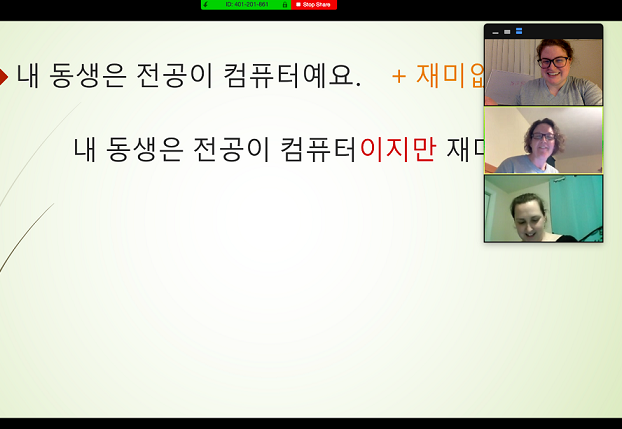 If you have already registered for this term, your class will be conducted via Zoom. More detailed information will be sent to you shortly. If you prefer a refund or credit to wait for in-person classes, please let us know.

We are offering these classes at a discounted rate of $300. You save $25!
Classes will begin the week of July 6th.
See individual listings to confirm your class's start date.
We hope that you'll join us!
Click the button below to see course listings and to get started.